Coming
Demonstration
Schedule:
Te Puke area
Fri 15th May 2015


Hamilton area
May & June 2015


Nelson / Blenheim / Christchurch areas
Mid June 2015
Please email Diana if you would like to view the Paddock Groomer in your area or join one of our scheduled free demo days
Info@PaddockGroomer.co.nz

Attention all horse owners, horse trainers, breeders, lifestyle block owners and anyone else who works with horses or wishes to keep their horse paddocks clean, healthy and tidy...

Introducing an exciting new New Zealand made horse manure and debris collector,
the "Paddock Groomer" is the FAST, SIMPLE & AFFORDABLE way
to collect manure and tidy up your horse paddocks.

***NOW RECENTLY MODIFIED FOR EVEN MORE EFFICIENT MANURE COLLECTION
THAN BEFORE!***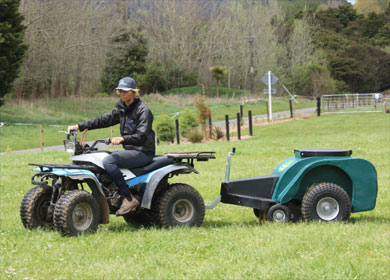 Not only does the Paddock Groomer pick up horse manure to help maintain cleaner, healthier pasture for your horses, it also helps to "groom" your paddocks by removing debris such as leaves, small stones and rubbish, and can help smooth over dirt clods to leave your paddocks visibly cleaner and smoother in minutes.

Every horse owner knows what a tedious and physically demanding chore it is to keep horse paddocks manure free, however it remains an essential part of good horse health management to regularly remove manure to help reduce worm infestation as well as to avoid pastures becoming weedy and sour. Traditional methods of collection using a wheelbarrow and shovel or gloves are hard work and time consuming and require daily removal before the job becomes too overwhelming to tackle. If the average horse drops around 8 to 12 manures per day, this soon adds up to ALOT if you get too busy doing other things or miss a day or two!

With the Paddock Groomer, you can easily collect horse poo from your paddocks every few days or once a week or as it suits you, saving you time, assisting in healthier horses and keeping your paddocks looking cleaner, healthier and tidier.


Clean and tidy horse paddocks like this
can now be yours with the Paddock Groomer.


"We find we can now collect manure from a horse paddock every 3 - 4 days or so and it takes about 15 minutes, plus our horses are quite happy to stay in the paddock while we clean up. It's fantastic!"
Diana & Greg Jamieson - Chester Farm, Paeroa.


The Paddock Groomer simply attaches to your quad bike, 4WD Mule or other towing vehicle. As you drive around the paddock, the very strong rotating brush sweeps horse poo and debris into the collection chamber tray which you then empty like a lawn-mower catcher.

The Paddock Groomer is one of the most affordable horse manure collectors currently available in New Zealand, priced at NZ$3300+GST including FREE FREIGHT New Zealand wide to your closest town centre.

Home | Product Info | Demo Video | FAQ | Testimonials | Contact and Order

Copyright © Paddock Groomer